Animated Views Staff

Posts: 5041
Joined: February 8th, 2005, 5:54 pm
Location: The US of A
"Yesterday is history, tomorrow is a mystery, but today is a gift--that is why it's called the present."
---
AV Forum Member

Posts: 7574
Joined: October 25th, 2004, 8:53 pm
Location: Binghamton, NY
That's terrible.

She was such a great Lois Lane.
Noelle Neil was great too but IMHO Kidder was the best! She and Reeve worked so well together. Maybe they'll meet in heaven now.

"It is written among the limitless constellations of the celestial heavens, and in the depths of the emerald seas....the world which we see is an outward and visible dream of an inward and invisible reality."
---
Animated Views Admin

Posts: 17960
Joined: October 22nd, 2004, 1:27 pm
Location: London, UK
Up, up and away...

So bummed out right now. At least they're flying high together again.

RIP, Lois and Clark... xx
---
Animated Views Admin

Posts: 4933
Joined: October 22nd, 2004, 11:21 pm
Location: SaskaTOON, Canada
Sad news, indeed. Superman The Movie is my favourite all-time film, which was one of the first things in a long line of things that Ben and I agreed on. He enjoyed her Lois more than I, to be honest (Phyllis Coates was the perfect Lois, though that version is dated now), but there's no denying Margot's place in cinematic history. For so many of us, she WAS Lois Lane. And it was a pleasure to meet her in Calgary in 2009, when she leaped up to introduce herself as my friend and I approached her table. With the passage of time, we weren't sure if it was really her, but she left no doubt when she came right up to me and shook my hand, happy to meet a fan. A good memory.
---
Animated Views Staff

Posts: 1220
Joined: March 27th, 2008, 1:56 pm
Margot was one of my first celebrity pics. I think it was Comic Con 2005? I didn't know how exactly to go about doing the whole celebs picture thing then, but she was patient with me. Even gave me a pointer or two, which I've been using since.
She was "my" Lois Lane growing up, even when mom was a big fan of the Lois and Clark TV series when it was on. Was extremely bummed to hear of her passing.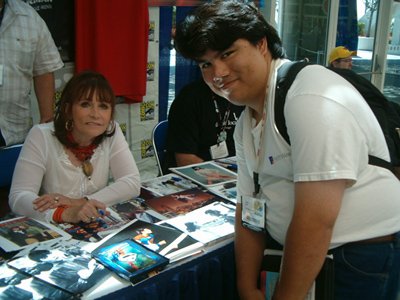 ---
---