For many years, monthly DC Comics, trade paperbacks, and hardcovers featured what was called the "DC Bullet."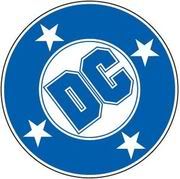 This was the corporate logo for at least a quarter century. It was officially replaced by the "DC Swirl" roughly ten years ago...
I'll be honest... I HATED the Swirl. It looked like DC was using a lavatory as a corporate symbol.
The "DC Bullet" had an understated chic style that was classical. It really didn't need to be discarded.
Now, the DC Swirl has given away to this ambiguous symbol (shown in a cluster of colors) =>
Although I'm not trained as a graphic designer, I think I know bad design when I see it... and this is
REALLY BAD!
Shoulda stuck with the Bullet, DC. It could have been animated nicely. (Picture a wheel "with DC" letters rolling onto screen followed by "star bullets" punching into it. Yeah, it might be sort of a James Bond rip-off but it's better than what was done with the Swirl...) The Bullet sure wasn't ambiguous on corporate identity... Nor did it subtly remind me of a toilet, either...
*************
Most companies are smart enough to stick with logos that readily identify them. 20th Century Fox hasn't changed its spotlight animation much over 50 years even though we're now in the 21st Century... Disney has stuck to a simple graphic of Sleeping Beauty's castle with a stylized "Walt Disney" signature for over a quarter-century. Universal used a globe with revolving lettering for decades. Paramount stuck by a mountain image with stars and a cursive lettering. McDonald's isn't going to abandon the Golden Arches any time soon.
You can't just go on changing logos time and time again and expect to build brand recognition anymore than you can expect to be known for quality if your goods are third-rate...